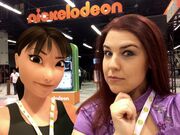 Ami Yamato is a Japanese videoblogger and animator, currently living in London, England. She is known for using a 3-D animated figure lookalike instead of showing her face online. She is also a friend of Rebecca Parham, who has made at least 2 collaborations with her. She also has a YouTube channel with the same name, in which she passed 100,000 subscribers on YouTube, as of April 2018.
She was first mentioned on Rebecca's 2015 VidCon Recap video in the selfie. However, she wasn't mentioned again until No Mouths?!, when a fan was asking about her.
Description
Appearance
She Looks like a tall woman and she appears with different clothing on her videos. She always has dark brown hair.
Personality
Her personality is not extremely precise. However, she is the type of person who likes to relax and animate while drinking coffee. Her favorite place to purchase it is Starbucks.
Trivia
Yamato and Jaiden Dittfach from Jaiden Animations are the only friends of Rebecca who are Asian.